An Invitation to the FARE Patient Registry
From Bruce Roberts, PhD, FARE Chief Research Strategy and Innovation Officer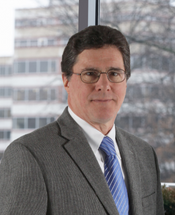 As the FARE Patient Registry's principal investigator, I would like to thank you for taking this incredibly important step in visiting the FARE Patient Registry.
It's often said that knowledge is power. Patient registries seek to tap into the knowledge and experiences of a group of patients who share a condition or disease in common. In the case of the FARE Patient Registry, this shared condition is food allergy. If you, your child or your legal dependent has a doctor's diagnosis or well-documented history of food allergy, you are eligible to join us, and I sincerely hope you will. Here's why.
YOU are a food allergy expert, and your experience can help us discover effective treatments and, eventually, a cure.
No one knows your (or your loved one's) food allergies like you do. You manage food allergy every day. You know how to recognize triggers, early symptoms and more. You know this disease inside and out, and you know how it impacts your life, health and wellbeing.
Food allergy researchers are also food allergy experts, in a different way. We've learned how to look for patterns. We're starting to uncover the events and circumstances that tip the balance from food tolerance to allergic reaction.
The FARE Patient Registry is the world's largest registry of food allergy patients. It's a partnership between patients and researchers that pools our skills and knowledge for everyone's benefit. The Registry's surveys can help you organize your food allergy story and share it. When patients and parents share their stories, the patterns that emerge can point the research community in exciting and promising new directions. By working together, we bring future treatments closer to reality and we learn what can be done today to make living with food allergies safer and less stressful.
I hope you'll join the FARE Patient Registry today. It's quick, it's simple, and it's something that only you can do. And if you have already joined us, THANK YOU. The valuable knowledge you've shared helps us so much, and we are working hard to make our knowledge helpful to you.
Together, we can find solutions and improve lives.